Interview: Nettle Grellier explores the bizarre and the bodily to find beauty in foulness
Nettle Grellier's paintings burst from the canvas with lush colour and bold figures, viewers get a sense of a true and unfiltered intimacy throughout her body of work. Nettle's newest work explores the bizarre and the bodily to find beauty in foulness. Yew! chats to Nettle about the journey to her newest work and how loneliness was part of her life before covid, how springtime is so important to her and why she wants to increase the amount of orifices in her work.
"I'm looking inwards a lot more, without risking too much nasal gazing!"
"Other than the studio being out in nature is where I feel the most comfortable."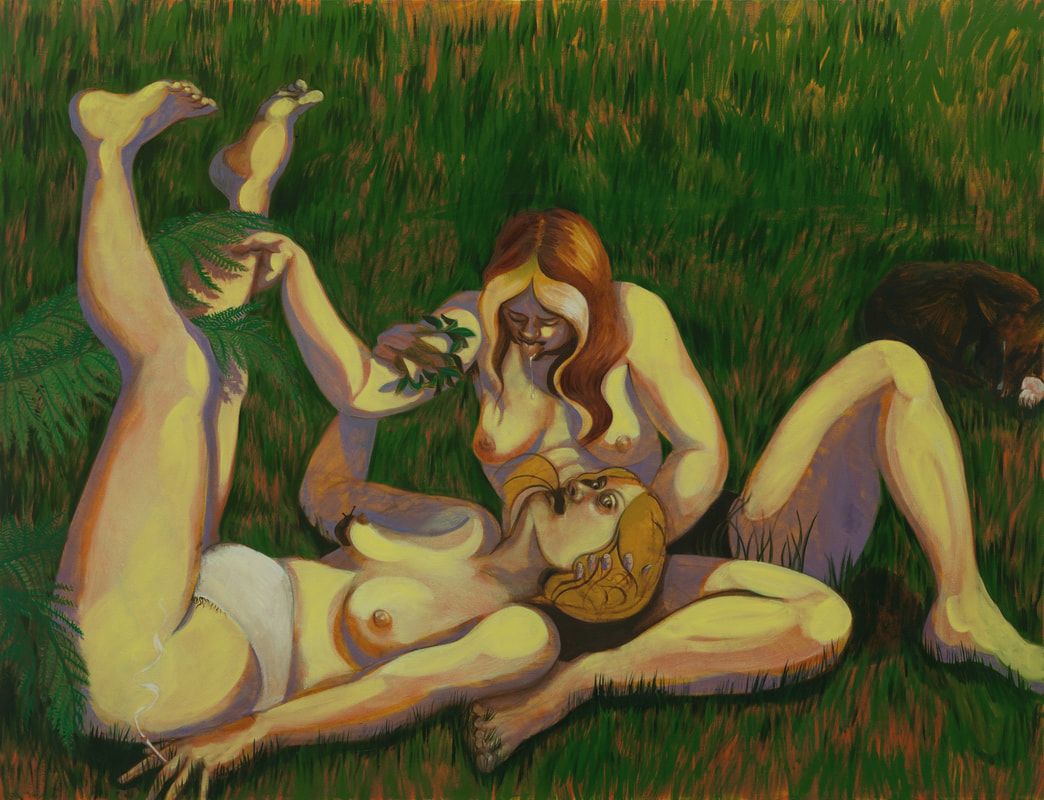 "Increase the orifices and increase the abject!"
Charlie McQuaid:
It's lovely to speak to you Nettle, please introduce yourself to our readers. Where did it all begin and how has that formed you and your art?
Nettle Grellier:
Sure, I was brought up in Stroud, near Bristol. It's a really nice town to grow up in as an artist, as there are loads of artists there and it has quite a central hub, in a place called the SVA (Stroud Valleys Artspace). SVA isn't dissimilar to the Fish Factory in Falmouth, where I just started a residency. I had my studio at the SVA up until recently when I moved back down to Cornwall.
Both my parents are artists and they're both based in Stroud, so I had quite an artistic upbringing, I guess! I've always felt like I'm going into the family business, it's just my family are artists instead of fishmongers or something.
I went to Brighton University in 2012 and graduated in 2015. From there I decided to build a house inside a truck, like an old removal lorry. I moved to Spain in it, where I exhibited mostly in Barcelona and lived and travelled in the truck. I landed in a small town just outside of Granada where I set up a residency for early career artists.
CM:
That sounds brilliant, where was the residency, how did it work?
NG:
The town was called Sijuela, and we really wanted to put an emphasis on helping out with early career artists- there were other residences in that area that were far more established artists. For us it was about bringing the community of artists together and we wanted people who would create a supportive network that we could be a part of rather than having to charge a lot of money for a residency where we just worked as people that were just running the residency. We wanted the artists around us and to be part of the same community.
It was pretty basic, we ran it on an old farm where we built a load of studio stud walls out of old truck floors. We were lucky because there were loads of industrial estates around that area of Spain, so we got all these old floors from old lorries and turned them into studio walls inside a big barn. We had a communal living area, lots of animals - we made it basic but were therefore able to make it really cheap and accessible. It was pretty bonkers!
CM:
Sounds like a good time! How did it change your work?
NG:
It definitely had a big influence on my practice, even now. So I'm so glad we did it. I had been travelling around for a while before then, so I was quite lonely. You meet a lot of people when you travel in that way, but you're often in a place only for a couple of days - you make these strong connections with these people that are living the same way as you, but then you move on and never see them again. I think that was a big part of why I wanted to create a residency - It's almost selfish, but I just wanted to have some permanent mates around me, ones that stayed longer for a few days!
So this became a theme of my work. Once everybody arrived at the residency, I started exploring tenderness, intimacy, female friendship and stuff like that. I think I was probably processing the isolation I had felt before then. That was what I worked through at that point, but it's particularly interesting looking back through the lens of today and what's happening in the world at the moment. Obviously, a lot of people are processing isolation within their work at the moment, I feel like I already tackled that within myself, to a certain extent.
I stayed in the truck for a couple of years after the residency ended, and even in Cornwall when I was living in the truck I felt isolated. It's a big old truck, so you have to stay in really rural areas and that just added to any isolation that I was already feeling - I wasn't surrounded by areas that had a lot of community. This theme continued and I found that I was basically trying to get my fill of intimacy and community by painting about it.
CM:
It's been a big year for isolation, and it sounds like you had similar experiences prior to the pandemic, how has the pandemic itself affected you and your practice?
NG:
This year has been pretty transformative for me regardless of the pandemic, a lot of stuff has changed - personally speaking. I feel like my work has been based more on the personal changes rather than it has been from living through a pandemic, perhaps because of the loneliness I felt while living in the van. But what the pandemic has done is give me time - a lot of time. Time to face what personal changes I've been through and time to process, it's all kind of tied together.
Practically speaking, there were also a lot of changes. I had big stints where I couldn't go to my studio. So, like a lot of artists, the emphasis has been working on smaller scale. I've been working on paper a lot more this year, which I found was actually a really good way to process things. You have a little less pressure if you're working smaller or if you are working on paper. You can churn it out quickly and go through more things.
CM:
I've noticed the increase of drawings that you've been releasing, they're so good, especially like the playfulness of scale and crops. What role does drawing play for you?
NG:
Right now I'm on a drawing residency, which I decided to do for all of the reasons that we've already spoken about. My mum, who's an artist as well, often used to take drawing breaks from painting. This was to get herself out of a rut, to process an idea or to develop something because of the lack of pressure that drawing carries. It's also such an immediate form of working, you can do it anywhere. These reasons made me decide that I wanted to do the same thing.
I was feeling quite stagnant in Stroud because I wanted to get back to Cornwall and I started feeling the pressure of having to exhibit online so much and, financially speaking, I had to ask myself if it was worth spending so much on painting materials to create something that just went on an online show. I know that that's not what it's all about, but in terms of supporting yourself you do have to consider that stuff. So I just didn't want to have to worry about it for a bit and just draw for the sake of it. It's all I want to do at the moment. I'm not craving paint at the moment, but when I do, I'll know that my time drawing has had its effect.
It's really nice, it's kind of addictive. It's not messy, you can wear whatever you want, it's refreshing! You look like a normal person, even just for a little bit.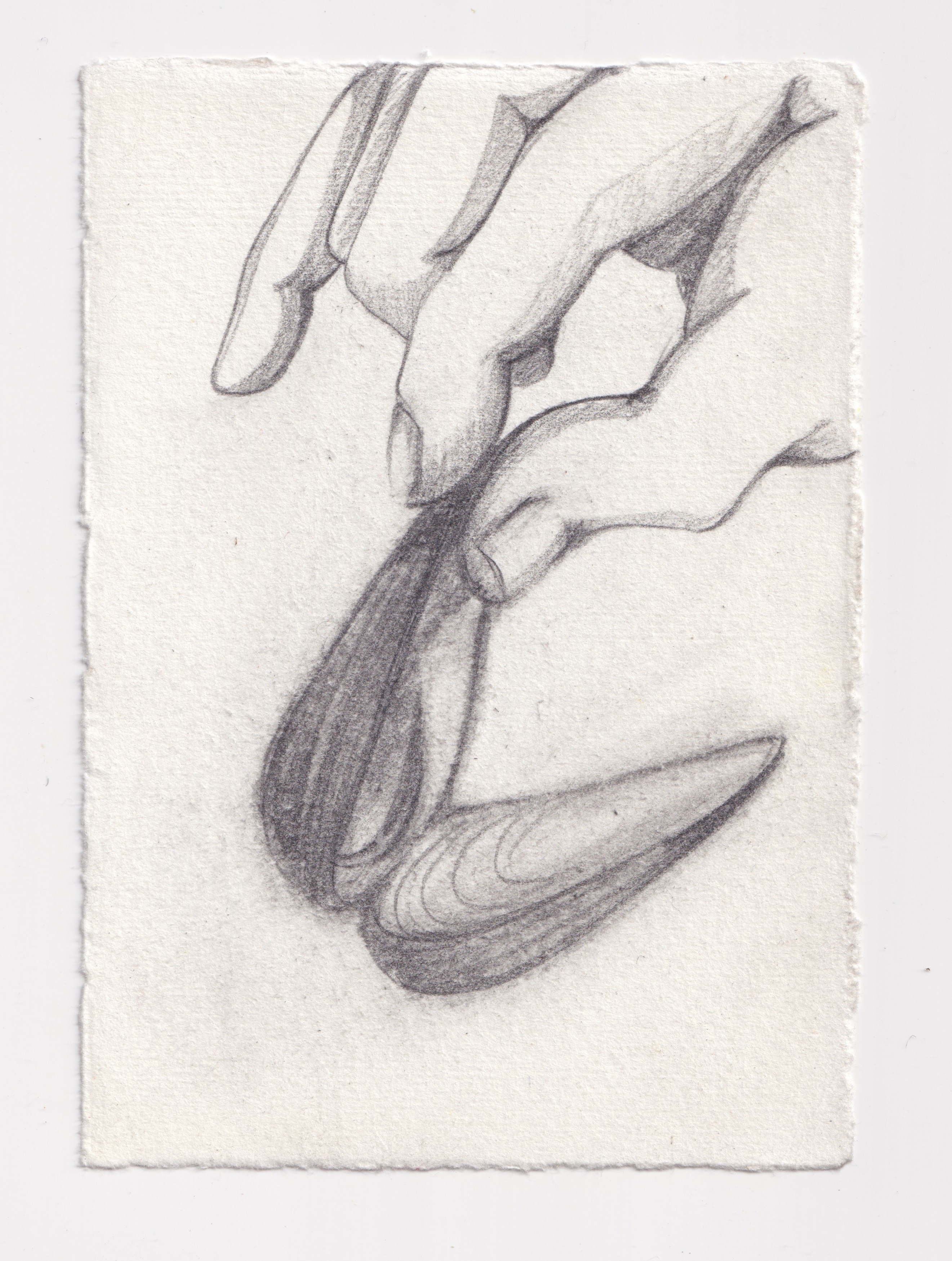 CM:
I can totally relate to the idea of yearning for Cornwall, what attracts you to here?
NG:
One of the main perks of Cornwall is the light. It's attracted artists forever down to this part of the country. This light is really important to me, the landscape has a big say as well. The last time I lived here, in 2018/19, I was starting to bring landscapes into my paintings a lot more. I was living in Redruth, there are these big and bleak landscapes that were dotted with industrial buildings as well. I found that really inspirational.
I also especially like this time of the year in Cornwall, the bright yellows of the Gorse flowers lining the bushes surrounded by the dainty purples of the heathers surrounding them. These really started to influence the colour palette that I was using.
Beyond this, I really like the lifestyle down here, I've got a lot of creative friends down here but I've noticed that it's matched with a lot of people in practical trades, it's quite a nice balance. It's not all about art, I don't like to be surrounded by too many people that are all doing exactly the same thing. Everyone seems to have their fingers in a lot of pies, it might be building boats, or printing seaweed or making clothes.
CM:
You've touched on it there, but where do you find inspiration outside of art?
NG:
I make sure I try and spend as much time outside as possible. I love to walk. I also enjoy cooking. I'm looking forward to spending time around a table with friends and have that interaction again. I think it's like with any healthy relationship, you need to take a step back sometimes and concentrate on something else, and that's the same with art. This gives me another perspective, I realise that it's not all encompassing - it's not the most important thing in the world.
CM:
And inspiration within art?
NG:
Just to fire off a few, Plum Cloutman is an amazingly talented artist, who I have a show with called 'In Heat' at Blue Shop Cottage, London 5th-12th May, Julia Trybala, Jonathan, Lyndon Chase, Oriele Steiner, Anna Choutova ( who curated the group show 'Safe as Milk' at Arusha Gallery, Edinburgh which I'm in and runs from 8th March-8th April), Rosie Gibbons, Lindsey Mendick, Somaya Critchlow, Zoe Spowage and Naudline Pierre. These artists are all active and working, but some that have passed away but are equally influential include, Tamara de Lempicka, John D Graham, Amrita Sher-gil, Claude Cahun and Arshile Gorky.
CM:
Amazing list, I'll be digging into these later. I've noticed, that I've spent a lot more time outside since the pandemic, It's made me appreciate it, as if it is a luxury! I've also noticed that I've been spending more time online though, how is your relationship with social media and the role it plays for artists?
NG:
Undoubtedly, being online, as an artist, is more important now. That brings with it a lot of good things, like having more control on how you get yourself out there and not having to rely on galleries and things like that. But also, there is obviously so much that comes with it that is kind of questionable. I think my relationship with social media is not as healthy as it could be, especially at the moment. I've always tried to understand that the business side of being an artist is important and part of that is accepting that you have to be on the bandwagon of social media and commit to it. That's probably why I've always gone along with it, but I remind myself that you have to be extra vigilant about making work that actually looks good in real life, rather than just in a photograph. I also think you have to be careful to not let Instagram tell you what people like, ignore it when it tells you what the trends are. You shouldn't just paint something because it's trending or because it's liked a lot. If you keep that at the forefront then you can manage it.
CM:
Great advice, it's a murky world online. Let's get back to the cleaner real world. Could you tell us a bit about your materials and your routine?
NG
: When I'm painting, I use oil paints and tend to draw on to the canvas, having primed it and put a brightly coloured ground down - usually something near orange. I'll then draw a figure onto the canvas, without planning it beforehand. I might have some drawings in the sketchbook that I'm referencing, but I won't have mapped it out. I'll start with one figure and as that fills up the canvas I might add another figure to interact with that one, and just create the composition as I go. I'll then add the landscape which will bounce off the figures which are usually in the forefront with the landscape being in the background. I've also tried bringing more things into the middle ground recently because I've realised it can be a bit too plain. I usually use a lot of paint, make a lot of mess and then rub it back quite a lot and make chaos before pulling it back in and reining it in. It's all so much about the build up of the surface, the finer details are left to the end. I find this part quite a consolidating time and usually itches the scratch of drawing in a more detailed and finessed way, that I always find soothing.
CM:
I can really see the depth of the surface in your paintings, nice to hear it explained. How does your routine look?
NG
: At the moment it's pretty skewed, because I've had different living arrangements and different routines. Usually, when I have a studio, I'm a morning painter. I have a dog, who I walk early in the morning and then go straight into painting. I love the morning because I find it nice, quiet and peaceful. It's a good time to be actively working. By the end of the day, I'm pretty uninterested in working. It also depends on the time of the year though, as obviously the light varies. I've noticed that my routine is quite seasonal. Spring brings such an exciting time for me to work. I get so many ideas that continue throughout the rest of the year in springtime. I think it's just because nature is so important to me. Other than the studio, being out in nature is where I feel the most comfortable. That's how my body is tuned and I alway feel so rejuvenated at this time of year.
CM:
Nature clearly has an influence on your work, what other themes are you looking to explore?
NG:
Self-awareness is becoming something that I'm working through with my paintings, it's something that I haven't had a lot of practice working on, or even speaking about. I'm looking inwards a lot more, without risking too much nasal gazing! One thing about art, is that you don't necessarily want to give too much away about the work that you think you've done. That can sometimes mean that people aren't able to form their own experiences from it. I think a lot about nature, a lot about intimacy, a lot about humour and the grotesque nature of humans and the way they interact. In my work there is a lot of nudity and a lot of female bodies interacting, but it's really not sexual and often it's only ever sexualised by men viewing it. Which has been spurring me to get more and more grotesque with it, I think. Increase the orifices and increase the abject!
Nettle Grellier next show is called 'In Heat' at Blue Shop Cottage, a group exhibition with Plum Cloutman in London 5th-12th May. You can see more of her work or get in touch on her website at www.nettlegrellier.com.


︎ Follow Nettle on Instagram.

Tags
|
Q&A
,
Interview